DESIGN WITH A PURPOSE
Learn how you can leverage our
expertise for a radical transformation.
Binghamton University Science IV
Our Building Science working group has the knowledge and experience to perform safe and effective deep energy retrofits, giving you the peace of mind that your facilities will be more economically and environmentally efficient.
Many of the facilities we work with were built in a time of cheap, fossil-fuel based energy, making them costly to operate, costly to maintain, and costly for the environment. Our staff of Building Science Experts and Certified Passive House Consultants address each project with a deep understanding of performance, longevity, constructability, and beauty. We employ a series of analysis tools to support our efforts, including energy modeling, daylight modeling, and hydrothermal (WUFI) analysis. Based on our analysis we develop a set of recommendations specific to each building. Those may range from façade upgrades, to insulation improvements, to high-performance energy systems.
Matt Broderick Contact Matt with Questions about Deep Energy Retrofits
Ed McGraw
Susanne Angarano
Jason Evans

BINGHAMTON UNIVERSITY
SCIENCE IV
A deep energy Retrofit of binghamton university's science iv
RENOVATIONS designed to positively impact education and the environment
Energy Retrofit Thought Leadership
"Repurposing Mid-Century Campus Buildings for a New Generation," SUNY/PPAA & NY APPA 2018 Summer Conference, Lake Placid, NY, 2018
Ashley McGraw was accepted to speak at the 2019 NYS Green Building Conference in April for "Repurposing Mid‐Century Buildings for a New Generation."
This exploration phase allows us to dive deep into the essence, culture, and context of a client, in a way that unearths the purpose of the project and optimizes program, so that all stakeholders gain a rich understanding of guiding principles which inform decision making and design moves to develop a meaningful, aspirational, unique, and successful project.
Our Process:
Provides a method to engage stakeholders throughout the process, facilitating communication within and between stakeholder groups and bringing all stakeholders together for common project understanding and focus

Maximizes aspirational capacity of the project, identifying opportunities and potential rather than just providing solutions, and establishes a robust vision

Utilizes a systems approach to map out a network of points and a path forward for each part of the system over time

Embeds the vision of the project into the process for a more authentic, place-based, and transformative project
Susanne Angarano Contact Susanne with Questions about our Pre-Design process
Ed McGraw
Catherine Wolfe
Jason Evans

NUTHATCH HOLLOW LIVING BUILDING.
The Living Building Challenge is one of the most aspirational and rigorous building standards in the world today.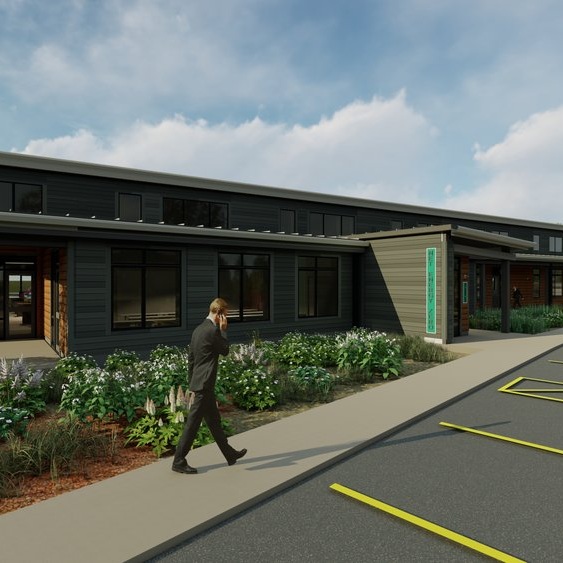 SEF Net Zero Energy Office Building
Drawing on Passive House strategies, the design sets a regional standard in sustainability - from both economic and performance perspectives.
Pre-Design Thought Leadership
Living Product Expo 2018 "Biophilic design integration: Macro to micro and the spaces in between"